November 9th, 2010 by
Mike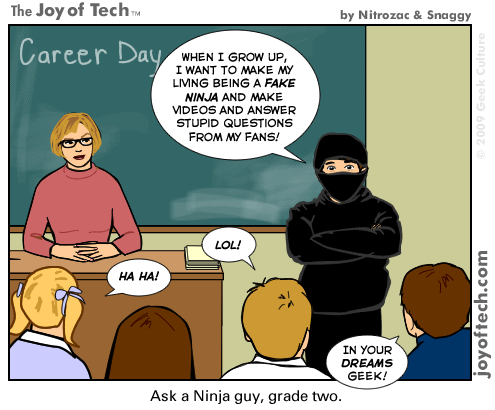 Adderall helps you fit into any mold. It doesn't matter what your job is — as long as you have your pills, you will fit yourself to the job and tell yourself you enjoy it. One of hardest parts of quitting Adderall is suddenly realizing that you don't fit your old mold anymore, or worse, you don't seem to fit any mold.
Most likely, you just need to take time to figure out what kind of job/role/career/hobbies appeal to you most, and then move yourself closer to them (via education, etc). But if no job feels totally right to you, if nothing fits, you may ultimately need to cut your own mold, like these three people did.
Instead of figuring out how to make money first, and then trying to make the best of it, these people started by figuring out what they truly loved to do — what they were great at — and then figured out how to get paid for it. They invented their own job, and they make a handsome salary.
1. The Great Zucchini
Eric Knaus works 2 days per week and makes over $100,000 a year, mostly in cash. In his working life, Eric goes by his stage name: The Great Zucchini, children's entertainer extraordinaire. After working at a kids play place and working as a clown for dozens of kid's birthdays, Eric discovered that he had a unique ability to make kids laugh. He soon struck out on his own, performing private parties, and is now booked solid (weekends only) for nearly a year in advance.
Website: thegreatzucchini.com
Great Article: http://www.washingtonpost.com/wp-dyn/content/article/2006/01/18/AR2006011801434_pf.html
2. Ask A Ninja
You may have seen a few Ask a Ninja videos on Youtube. Basically, Kent Nichols and Douglas Sarine dress Kent up in a Ninja costume and answer reader questions in hilarious fashion. Thanks to their extremely high traffic figures, they struck a deal with Federation Media (the company that runs the ads on their site) is rumored to be worth about $300,000 a year, making them the highest paid YouTube team in the world.
Website: askaninja.com
Article: http://newteevee.com/2007/01/29/ask-a-ninja/
3. Galco's Soda Pop Stop
When John Nese was a child, his favorite place to visit was the soda bottling plant that his father's friend owned. When he grew up, his love for soda pop turned into an obsession. Fortunately for his mental health and for the rest of us, he channeled that obsession into his start-up business: Galco's Soda Pop Stop, where you can buy every imaginable brand and flavor of soda pop — a far greater selection than anywhere else in the world. Want cucumber soda or peppermint soda? He's got that, along with everything else you could think of carbonating…and plenty of stuff that you'd never think of.
Website: sodapopstop.com
8 Responses to "3 People Who Invented Their Own Job (And Love It) [VIDEO]"